Good Morning all and welcome to a new challenge here at
Ruby's Rainbow
Our Spotlight Winner from the last challenge has been chosen by me (Shaz) it should have been Tracey's turn but she is holidaying on the barrier reef its alright for some, hope she is having a fabulous time.
choosing our winner was really hard this week as always some truly fabulous projects were made
Many thanks to all those who joined in the fun with us
And so our Spotlight Winner is....No 24 Lisa S
Well done Lisa a fab card please take our badge for your blog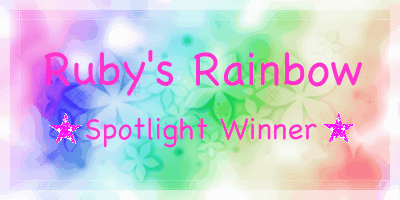 Now i have some sad news
Our
Lynsey
has decided to step down from the DT due to work commitments, its not good when work gets in the way of our pleasures but Lynsey has promissed us she will still be about in blog land
Myself & all the DT girls wish you all the very best and would like to say it's been a true pleasure working with you and a place will always be open if you should wish to come back to us.
And so onto this fortnights challenge #15 and the theme this time has been chosen by our lovely
and she would like us all
to use
METAL
on your projects
Here is was the team have created.
Ang
Amanda
Silvi
Susan
Shaz
Lesley
Jacqui
Angel
Please visit the Dt's blogs for more info on their creation
Links to all their blogs are on sidebar or just click on their project.