Good morning all and welcome to all our new followers and joiners here at
RUBY'S RAINBOW
Thank you to all those who joined in the fun over the last 2 weeks some truly Beautiful creations made as always.
Angela

had the hard job of choosing our spotlight winner from our last challenge this time, we normally have 1 in the Spotlight but Angela couldn't choose between No's 8 & 33 so you are both in the Spotlight this time and that's you.............
Gry

with this fab creation
&

Pat K

and here is Pats fab creation
Congratulations Ladies gorgeous creations, we would love it if you would both take our badge for your blog as it is so well deserved.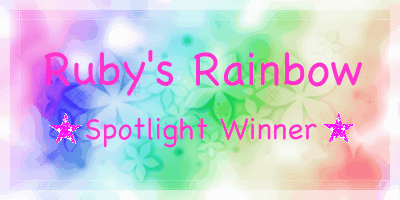 So for our new challenge for this fortnight the theme has been chosen by
Jackie
who has chosen
Here are what the DT have created for some inspiration
SILVI
ELLIEWEE
DEBBIE
ANGELA
Fabulous creations as always ladies
for more information on how they have created their project please visit their blogs
links to all their blogs are on sidebar.
Well that's it for this fortnight our next challenge will be in 3 weeks time
JANUARY 9th
May i take this opportunity on behalf of us all here at Ruby's Rainbow to wish you all the merriest of Christmas and New Year and to thank you all for your fabulous support over the past 12 months
We look forward to seeing what you create and will see you in 3 weeks time for a new challenge and a new spotlight winner .